Developments in cable land
May 2018
Due to the increasing demand for data, speed and connectivity and upload capacity, there are a number of developments in cable land.

In 2018, we are still in the DOCSIS 3.0 period with the current cable providers.

Introduction of DOCSIS 3.1 in 2020/2021 in the Netherlands
With DOCSIS 3.1, the cable prepares for the future. Every year, more data is sent. Dutch people are doing more and more online: working at home, shopping, making online back-ups, sharing photos and videos, gaming, e-mailing and skyping. And also devices are more and more connected to the internet. In other words, there is a growing need to broadband capacity. With the DOCSIS 3.1 technique the cable grows along with that demand with the certainty of a high quality connection. DOCSIS is an abbreviation of Data on Cable Service Interface Specification and is a technique that enables cable companies to transport information about a coaxial cable. The 3.1 specification has been developed to enable a new generation of cable services and to enable cable companies to continue to meet future consumer demand for fast connections and advanced applications.

A disadvantage of this upcoming introduction is that all existing amplifiers have to be replaced.

DOCSIS 3.1 enables Gigabit speeds via the cable. The standard specifies speeds up to 10Gpbs downstream and up to 2 Gbps upstream and defines an extension of the frequency spectrum to 1.2GHz and later to 1.7GHz. In other words, the 65MHz return band becomes a 245MHz return band and the 862MHz downstream band becomes a 1.2GHz downstream band.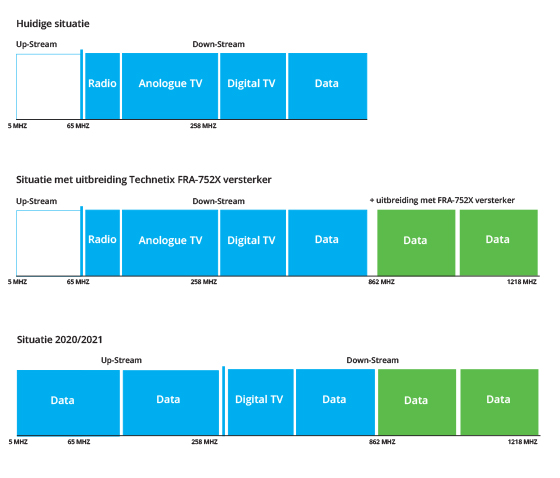 Frequency band (1.2GHz)
The 1.2GHz amplifiers serve as an intermediate solution. These amplifiers will all have to be replaces at the introduction of DOCSIS 3.1.

They do facilitate a higher 1.2GHz download, but no higher upload. This is limited to 65MHz.

For DOCSIS 3.1 there must be new amplifiers with a split on 258MHz to be able to use the new upload capacity (radio and analogue TV will be expired). You can recognize these amplifiers on 1.2GHz or 1.2GHz Ready on the package, such as Hirschmann HMV41 and the Technetix FRA-752X.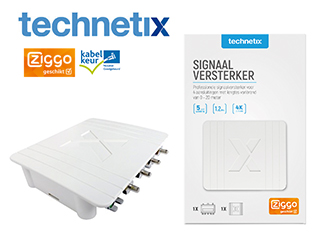 View all news