Miele Care Collection
May 2017
All detergents from the Miele Care Collection are now also available via Elka Pieterman.
TwinDos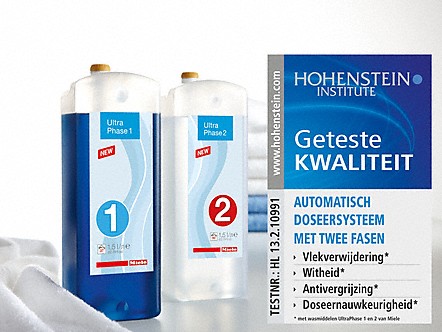 TwinDos is the first automatic 2-phase dispensing system for liquid detergent, which thoroughly cleans colored as well as white laundry. With one press on the button, the two detergents are dosed automatically and at the right time during the laundry process. This way up to 30% of detergent can be saved.
When combined with the Miele detergents UltraPhase 1 and UltraPhase 2, the washing results are at their best. No. 1 contains ingredients suitable for whites and coloured items. No. 2 ingredients suitable for whites, such as optical brightener and bleach. Due to the 2-phase dispensing it is possible to add oxygen bleach to a liquid agent. This is usually only possible in powders. Oxygen bleach works well with difficult dye-like stains, such as blood, tea, coffee and wine.
The TwinDos system also works with other liquid detergents and fabric softeners. And of course, the detergent tray can also still be used for dosing.
CapDosing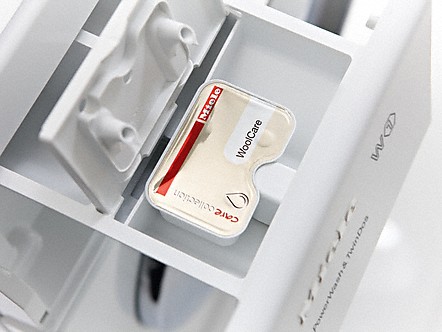 For the cleaning and treatment of special textiles, Miele offers CapDosing in their new generation of washing machines. This system provides a practical dose through small capsules simply placed into the fabric conditioner compartment. It is easy to dispense special detergents, fabric softeners, impregnants and a Booster against stubborn stains. After the cap is placed, the washing machine automatically dispenses the contents at the ideal time during the laundry process.
FragranceDos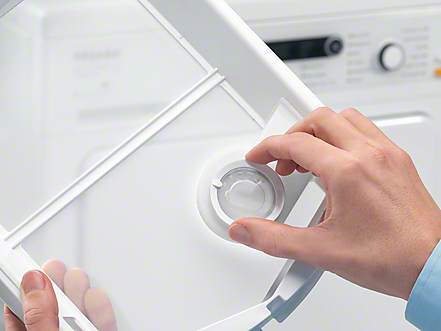 The Miele fragrance caps (available in five fragrances) is easily placed in the flushing filter and evenly gives a fresh odor to the laundry during drying. By rotating the cap the intensity of the odor can be adjusted.
The fragrances are produced by a perfume company in southern France, which has been producing fragrances since 1871. Through a special production process, the perfumers make sure that the valuable fragrances are preserved. The result is a lovely scented laundry for up to four weeks.
View all news