The production of halogen lamps will be stopped slowly from 1 September 2018
March 2018
The European Commission has decided to slow down the production of halogen lamps on 1 September 2018.
In 2015, the Member States and the European Commission agreed to slowly stop producing the inefficient D-class halogen lamps. As a result, more time will be available to lower the costs of LED lamps.
In the first instance, it was agreed to stop production on 1 September 2016. However, this will now be postponed until 1 September 2018. The production of certain inefficient halogen lamps will stop because the consumption of halogen lamps is 5 times higher than that of energy efficient Led lamps.
From 1 September, certain non-directional mains voltage halogen lamps (especially the pear-shaped models) will no longer be placed on the market. This does not apply to the directional halogen lamps, which we often encounter in desk lamps.
Delaying the measure has a number of advantages for the consumer. For example, switching from an ordinary halogen lamp to an energy-efficient LED lamp can save around € 115 on the total lifespan of approximately 20 years. In addition, a new, more energy-efficient LED lamp is already reclaimed within a year.

Phased-out in 2018 Still available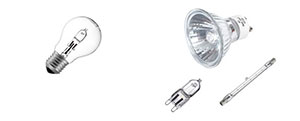 View all news