Belmio coffee capsules in a packaging
April 2020
Belmio, originally a Belgian company, stands for aluminum coffee capsules for espresso machines. The coffee brand takes espresso drinking to a new level. Each Belmio capsule is packed with the rich flavor and aromas of freshly ground coffee, all accompanied by the aluminum capsules. Belmio coffee capsules are compatible with most Nespresso coffee machines, so you can be assured of the high quality coffee in your espresso machine.
And that is not all, the Belmio Nespresso capsules have been given a new look. The Belmio coffee cups are available in different characterful flavors and a different intensity per taste. Easy and quick to order via the Elka Pieterman webshop. The flavors that have been put in a new packaging are Lungo Forte, Espresso Allegro, Espresso Decaf, Espresso Forte, Espresso Ristretto and the Espresso Dark Roast.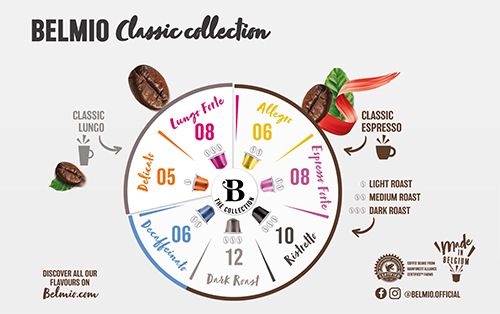 Belmio selects only the best Arabica and Robusta beans for its distinctive and rich coffees. They make espresso, ristrettos and lungos according to the rules of the art, because only the best is good enough for today's coffee drinks.
For more information: www.belmio.com/en
View all news