Dustbag for your Miele vacuum cleaner? The high-quality alternative: CleanBag Professional!
The CleanBag Professional dust bags are high-quality alternatives to F/J/M & G/N dust bags. You can shop them at Elka exclusively.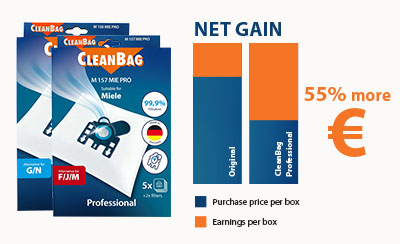 Unfortunately, it is no longer possible to buy original Miele dust bags from us, due to the further tightening of the selective distribution by Miele. Therefore, we have developed two new CleanBag Professional dust bags of our own. The high-quality alternative for Miele dust bags with 55% more net gain than the original.
The alternative for F/J/M or G/N vacuum cleaner bags: CleanBag professional
That the CleanBag Professional dust bags are high-quality alternatives to original dust bags is shown by the hygienic filtration: a unique combination of 5 different layers provide a filter degree of no less than 99.9%. Ideal for allergy sufferers. The hygienic seal ensures that vacuumed dust does not escape when replacing and disposing of the bag, and that the power of the vacuum cleaner is not reduced. In addition, it prevents the backlash of dust into the dust bag compartment for a longer life of the vacuum cleaner.
Optimal suction power with CleanBag Professional dust bags
The vacuumed dust is absorbed without clogging the pores. This ensures that the suction power of your vacuum cleaner remains optimal for longer and therefore more dust in the bag can be aspirated. As a result, one bag will last longer and needs to be replaced less often. The quality of the CleanBag Professional dust bags has been tested by the independent test institute TÜV.
Want tobuy a CleanBag vacuum cleaner bag? Exclusively at Elka Pieterman!
The CleanBag Professional vacuum cleaner bags are alternatives for original vacuum cleaner bags and are exclusively available at Elka Pieterman. Are you convinced and would you like to buy a dust bag? Companies can order the bags in our webshop. Don't have a webshop login yet? You can request it here!
View all news