Protective transport covers - No more transport damage
January 2023
Transporting unpackaged appliances safely without damage can be a challenge. Even minor scratches often mean that a brand-new device can only be sold as a B-choice or at a deep discount. That is why we have added a number of smart packaging solutions to our range that offer "all-round" protection during transport. Whether for washing machines, refrigerators, dryers or dishwashers - they make safe transport very easy.
Transport cover with carrying function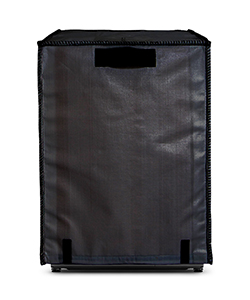 This cover is reinforced with wooden panels for better protection against shock damage. The white goods appliance can already be transported to your customer in its cover. The packaging material remains in the warehouse and any damage is discovered in advance.
The cover is equipped with straps and carrying loops that make the device easier to handle on stairs and in tight spaces. The handles also make it easy to tip the device onto a hand truck. These also reduce injuries and poor transporter posture.
Furthermore, the cover has a hose holder so that there is no more tripping hazard or water leakage during transport. The handy plastic folder for packing slips and invoices ensures that you know exactly who the device is for.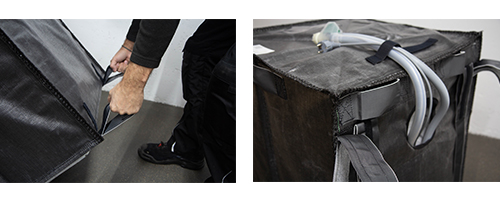 A quick overview of the advantages of using this transport cover:
• Less damage
• Protects the device
• Integrated carrying function up to max. 200 kg
• Easier and better to handle
• Fewer injuries
Transport protection belts
In addition to the above premium solution, we have also added a number of protective belts to our range. These belts are made of coated polypropylene (PP) ribbon fabric and padded with a shock-absorbing polyethylene (PE) foam padding, making them extremely durable and tear-resistant. The double seams and reinforced corners/sides ensure a sturdy construction. A hinged cover with filling protection that can be secured with Velcro rounds off the "all-round protection" of this solution. After use, fold them up so that no valuable storage space in your van or truck is lost.
Dimensions:
Normal appliances High appliances Side0by-Side
60 x 60 x 85 cm 60 x 60 x 115 cm 91 x 72 x 115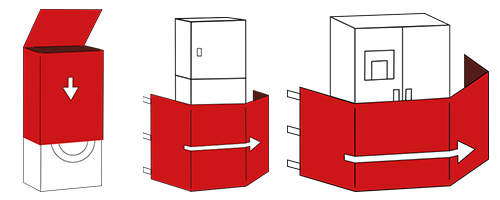 Environmentally friendly - because of less packaging waste
Another advantage of using these products is that less temporary disposable packaging material, such as bubble wrap, is needed. Returns can also be packed faster and your transport volume is reduced. The covers are reusable up to at least 150 times.
Cargo protection, Courier, Delivery, Delivery drivers, Dishwasher, Dishwasher cover, Dishwasher covers, Dryer cover, Dryer covers, Fridge cover, Fridge covers, Refrigerator cover, Refrigerator covers, Furniture cover, Furniture covers, High refrigerator, Lifting, Moving, Moving away, Old device return, Old appliance return, Protection, Protective cover, Protective covers, Return, Returns, Side by side refrigerator, To protect, Transport, Transport bag, Transport bags, Transport cover, Transport covers, Transport damage, Washing machine, Washing machine cover, Washing machine covers, White goods cover, White goods covers
View all news